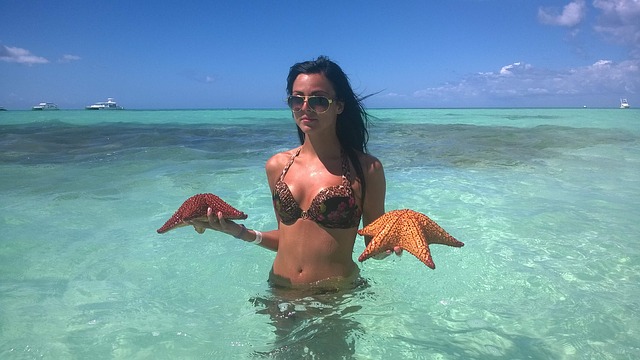 A young man who was on vacation in Hawaii went for his morning jog along the beach.
As he was running, he saw from a distance an older Hawaiian woman standing at the edge of the water tossing something into the ocean.
He approached her and called out "Good morning! May I ask what it is that you are doing?"
The Hawaiian lady looked up and replied "Throwing starfish into the sea."
"Why are you throwing starfish into the sea?" asked the somewhat startled man.
To this, the woman replied, "The sun is now up and the tide is going out. If I don't throw them in, they'll die."
Upon hearing this, the seemingly wise man commented, "But Lady, do you not realize that there are miles and miles of beach littered with thousands of starfish? You can't possibly make a difference!"
After hearing this, the Hawaiian Lady bent down, picked up yet another starfish, and threw it into the ocean. As it met the water she said, "It made a difference to this one."
You have probably heard a similar story before about making a difference to one star fish at a time. But what do you and a starfish have in common?
I will get to that in a few minutes, but let us first look at the broader picture.
Did you know that global warming continues to be a major concern for the future of our planet?
Yes, you have heard it all before, but more and more people are starting to turn to sustainable living practices and eco-friendly ways to help sustain our planet for future generations.
Eco friendly living involves every aspect of our daily lives including driving to work, mowing our lawns buying are food and helping in ways that sustain nature's balance and well-being.
In this article, I'd like to focus on the last one – helping in ways that sustain nature's balance and well-being – including the animals, plants and trees that make up the larger part of our planet.
I am not saying you become a tree hugging hippie or a granola eating activist to save the planet, but to simply have more awareness and compassion in your daily actions.
Being compassionate towards all living things, and being conscious of your actions can really make a difference to all of us and our eco-systems, both now and in the future.
We often take for granted what our earth provides us, to sustain our needs and desires. We often litter without thinking, we use in excess of what we need and we don't take the time to help our plant and animal friends.
So what I propose is that you take some time to give back to our environment, to our mother earth.
Here are some things you can do to show more compassion and to create a positive impact on our planet.
1. Take a volunteer vacation.
Find something you are passionate about such as birds, whales, panda bears, red wood trees, or rain-forests.
Do a Google search and type in "volunteer vacation: (your interest)" to find some organizations to volunteer for.
I recently volunteered for a weekend at a bird preserve & sanctuary near where I live. I enjoyed feeding and grooming some large birds of prey such as owls, eagles and hawks.
2. Donate to a wildlife foundation or charity.
If you don't have the time to volunteer, a few of your dollars can help out.
Your donations will help pay for the needs of the animals and the staff working at the facility.
Find an organisation you are passionate about – maybe it's a "save the dolphin foundation" – and do your research to find out exactly where your money goes.
3. Watch a documentary.
There are many documentaries out there that create awareness, educate us and give us examples and ways of how we can make a difference.
My favourites are The Cove, Shark Water and Flow.
4. Leave nature as it is.
Often we feel a need to pick those flowers, cut down that tree or stuff those shells we found on the beach into our pocket.
This can have a negative impact on the animals and eco-systems because we are destroying their homes and habitat.
How would you like it if someone picked up your house and moved it, leaving you to build a new one?!
5. Don't litter.
Tossing your garbage where it doesn't belong disturbs wild life in their natural surroundings.
Think of the bee getting stuck in a soda can when it should be pollinating a flower.
Why not pick up some garbage you see scattered around you and reverse the effects?
6. Plant some trees.
Trees have an enormous role to play in our eco-systems, and more are being cut down than there are being planted.
You can plant a tree in your back yard, somewhere in your neighbourhood or in a wildlife reserve.
You can even volunteer for a day (organise a tree planting day) or get paid to work for a tree planting organization.
So back to my original question.
What do you and a starfish have in common?
Well, starfish often need help from human beings or nature to help sustain their wellness and livelihood. They need someone like us to throw them back into the water, or the waves of the ocean to carry them back to the sea.
Just like the starfish on the beach, we rely on the help of other human-beings and nature for our wellness too.
We are all inter-connected in this vast web of life.
Have you seen the butterfly effect movie? I believe that what you do really has a cause and effect.
Remember to perform your actions without expectations.
Have fun and enjoy that state of feeling good, knowing that you are making a difference in your endeavours to preserve wildlife and the environment.
If you know of any other ways to make a difference or to have a positive impact on our planet, I would love to hear them.
This is a heart-felt guest post from my friend Jai Kai who is the founder and creator of PlanetWell.com – an eco-blog empowering you to live a more simplified, healthy and eco-friendly lifestyle. 
Images courtesy of  schristia and jaewalk